+86-150 0011 0506
+86-21-33738120
Room 2015, No. 28, Yuanwen Road,
Minhang District, Shanghai.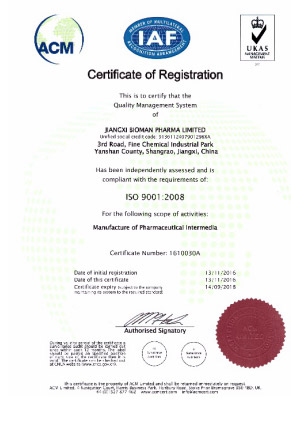 Bioman has established an independent, strict and sound quality management system in accordance with GMP and ISO9001:2000.
QA is responsible for the supervision of the quality during the production to ensure that production is operated in accordance with GMP and product quality meets the required specifications.
QC is equipped with state-of-the-art devices, ensuring the high quality of raw materials, final products, in process intermediates & water.
Copyright(C)2017,Shanghai Bioman Pharma Limited All Rights Reserved. Supported by ChemNet ChinaChemNet Toocle Copyright Notice 沪ICP备10036793号


沪公网安备 31011702005828号